White Chocolate Macadamia Nut Cookie Cake
Regular price

Sale price

$50.00

Unit price

per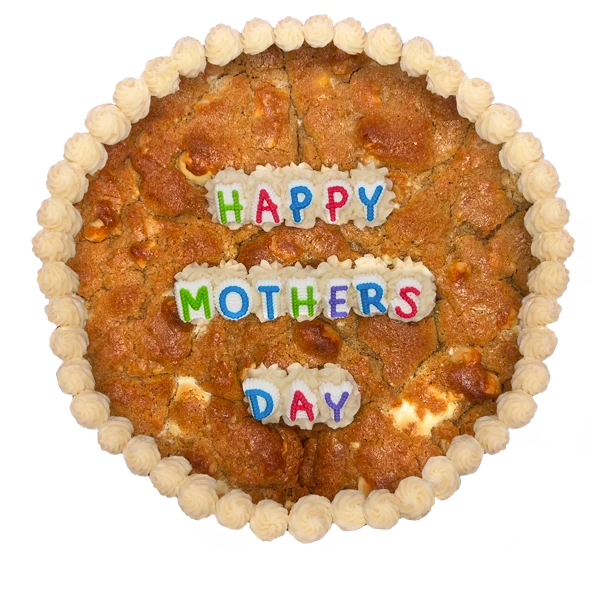 Order White Chocolate Macadamia Nut Cookie Cake Delivery
Macadamia Mastery
It's a nice day for a…white cookie. We're talking about one of our most cherished cookie cakes, the white chocolate macadamia nut cake — a fan favorite for years. If you like buttery, crunchy, dry-roasted Hawaiian macadamia nuts, then you are definitely ready for a good lei. This macadamia nut cookie cake all of the best ingredients together, with silky white chocolate and nutty flavors galore. A glorious union of winsome cookie delights. If you want to experience this delicious taste in a cookie version, be sure to try white chocolate macadamia nut cookies.

Delicious Macadamia Nut Cookie Cake
What's more wonderful than white chocolate? Each cookie that comprises this white chocolate cake is stacked with white chocolate chips, crisp cane sugar, and marvelous macadamia nuts. It's a veritable ivory tower of taste, a succulent treat that can feed your whole hungry clan. Order this organic opus today and experience the alluring essence of white chocolate macadamia cake jubilation.
Allergens
Dairy
Eggs
Nuts
Peanuts
Soy
Wheat
Bang Cookies baked goods are hand made using shared equipment which processes eggs, wheat, dairy, soy, peanuts, cashews, tree nuts, almonds, walnuts, pecans, coconuts, macadamia nuts, pistachios, hazelnuts. We try our best to prevent cross-contamination but if you have severe allergies please take note to the fact that we are not an allergy free bakery.
Shipping Info
Bang Cookies offers 3 ways to get your cookies:
• Shipping By Mail nationwide with FedEx and UPS
• Local Delivery with our drivers within the vicinity of our physical stores
• Pick Up directly from our store locations
Find out more shipping details.
Why everyone wants to get
Banged!
Feedback from customers that got the bang!
Sweet and tasty! And organic!!
Great cookie cake
This cake is amazing, the chocolate and flavor is great. Also I really appreciate how everything is organic.
Delicious
Cookie cake is the best cake