Sea Salt Chocolate Chip Cookie Cake
Regular price

Sale price

$45.00

Unit price

per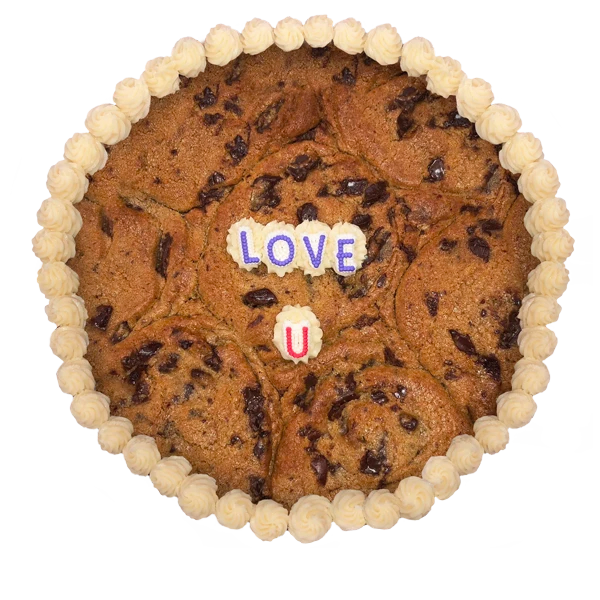 Order Sea Salt Chocolate Chip Cookie Cake Delivery
Calling All Cookie Monsters
Ever dreamt of what it's like under the sea? That's what it feel like when you sink your chompers into a moist and delicious slice of our chocolate chip cookie layer cake. Packed full of chocolate chip delights, this cookie cake doesn't play. Except with your emotions. It's the perfect gift for any cookie lover you know celebrating a special day. Unofficially the chocolate chip cookie cake sea salt of the year, it's bursting with chips and delish ingredients galore, primed and ready for a healthy slathering of festive icing. Even the crust alone will make your dreams come true.

Sea Salt Chocolate Chip Cookie Cake That Will Conquer Your Taste Buds
The number-one seller among all our amazing cookie cakes, this lightly salted, heavily sweeted number truly takes the…cake. If you're looking for a chocolate chip sea salt cake that will make your friends, family, and even enemies, love you for life, then you've come to the right place. Order one of these crunchy masterpieces today and spread the joy of the best cookie cake ever.
Craving something even more chocolatey? Try our organic brownies!
Allergens
Dairy
Eggs
Nuts
Peanuts
Soy
Wheat
Bang Cookies baked goods are hand made using shared equipment which processes eggs, wheat, dairy, soy, peanuts, cashews, tree nuts, almonds, walnuts, pecans, coconuts, macadamia nuts, pistachios, hazelnuts. We try our best to prevent cross-contamination but if you have severe allergies please take note to the fact that we are not an allergy free bakery.
Shipping Info
Bang Cookies offers 3 ways to get your cookies:
• Shipping By Mail nationwide with FedEx and UPS
• Local Delivery with our drivers within the vicinity of our physical stores
• Pick Up directly from our store locations
Find out more shipping details.
Why everyone wants to get
Banged!
Feedback from customers that got the bang!
Anybody's Favorite
Ordered this for a party, anybody loved it!
Our go-to celebration treat
Not only is this cookie cake the best, most delicious dessert ever, it stays moist and delicious for DAYS. (Not that it sticks around for too long, since we can't stop eating it.) We now look for excuses to buy one. They're easy to find :)
Amazing cookie
This cookie cake was amazing! Just as tasty as the cookies and it was just the right thickness and consistency. The lettering on the personalized message was cute and fun.
It was a little pricey, but I regret nothing.
Question is this better than David's cookies cakes
I'm wondering if this is as good as the David's cookie cake
Goodness!
Worth it for the price. Yum!