S'mores Cookie
Regular price

$0.00

Sale price

$5.50

Unit price

per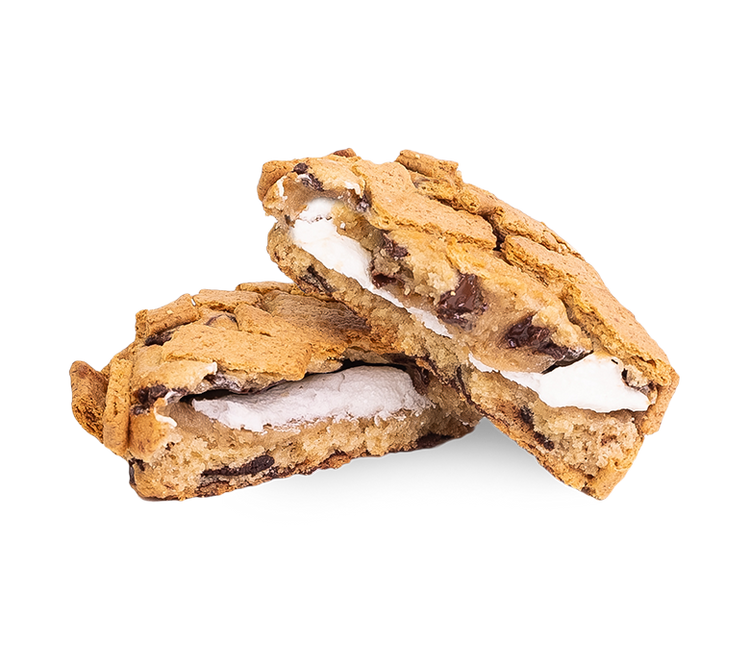 Order S'mores Cookie Delivery
Gimme Gimme Gimme S'more
Remember sitting around a roaring campfire, roasting marshmallows, and telling tales of yore? Well, these smackingly succulent s'mores cookies are just like that, without all the smoke in your hair and having to listen to lame stories. The Bang Cookies S'mores Cookie is the perfect blend of crunchy graham crackers, rich dark chocolate, and mushy marshmallow glee. A throwback to simpler times...
Delicious Smores Cookie, no matter how you call it
Made with a cornucopia of organic components, like cane and brown sugar, and squishy lil' 'mellows, you'll love these sugary sandwiches to bits. Whether you call it smore cookie, smores cookie, s'more cookie, the smore cookie, or just the best little snack medley in the world, you'll be hopelessly hooked on ours. Put a punch in your cart now, and relish in the resplendent glory of chocolate, marshmallow, and graham crackers. Plus, they're highly Insta-graham-able.
We've got the stuff. Check out our stuffed cookies.
Allergens
Dairy
Eggs
Nuts
Peanuts
Soy
Wheat
Bang Cookies baked goods are hand made using shared equipment which processes eggs, wheat, dairy, soy, peanuts, cashews, tree nuts, almonds, walnuts, pecans, coconuts, macadamia nuts, pistachios, hazelnuts. We try our best to prevent cross-contamination but if you have severe allergies please take note to the fact that we are not an allergy free bakery.
Shipping Info
Bang Cookies offers 3 ways to get your cookies:
• Shipping By Mail nationwide with FedEx and UPS
• Local Delivery with our drivers within the vicinity of our physical stores
• Pick Up directly from our store locations
Find out more shipping details.
Why everyone wants to get
Banged!
Feedback from customers that got the bang!
Great cold
Liked them better cold than room temperature as you can taste the marshmallow better.
s'mores
the reason i ordered the s'mores cookie was because i love s'mores and the website showed the cookie open with a lot of marshmallow in it but what i got was nothing like that it barely had marshmallow i took photos to show!
The Best Cookie
Never really enjoyed s'mores till I ate this cookie!!
Not impressed
Not worth the money. Lacks chocolate and graham cracker flavor. They offer great cookies, this one misses the mark sadly.